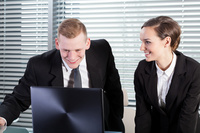 Looking for a way to get the business edge?

Or just looking to improve your business processes?

Advanced Business Computing's ICT consultants are committed to helping you achieve your business goals. Using the latest technology and quality cost effective solutions we'll improve business performance and reliability of your business systems.
Strategies for your safety and success - Our Technical Consultants can help

---
Advanced Business Computing understand that technology is a necessary part of any successful modern business, and can help with your strategic plan, even if you're not quite sure what it is you need. From working with you to find the best business software and online security that gives you the competitive edge in your business, to finding and designing your telecommunications systems for your head office and branches throughout New Zealand. Our dedicated ICT consultants will work with you to find the best Cloud or server and workstation design and then bring all of the elements together in a coherent and cost effective manner. Our specialist IT consultants will visit your business in Christchurch, Wellington, Auckland and throughout New Zealand, so contact us for business computer training and the best products and IT solutions.







IT Consultancy Christchurch - A stress-free process that's focused on the unique needs of your business
---
Our services vary depending on your business' size, structure and goals, but the process is always stress-free and geared toward the best outcomes for you:

Our free consultation is the perfect first step to uncovering your Technology enhancement options. One of our experts will come out to visit your business and get to know what it is currently like - its strengths and pain-points, and will find out where you would like to see it going in the future.

Then depending on what your business needs, Advanced Business Computing will recommend computer, server, telecommunications and security options that are right for your business and provide a quote.
Advanced Business Computing provide an audit of business technology. Our Audits are independent, transparent and can be used by your current provider to improve processes or as a springboard a fresh start.

Once agreed, we begin the implementation and you are assigned your own dedicated business consultant who will personally see your project through to the finish.

Ongoing managed servicing is available in two great options. Either an agreed servicing plan can be created which has additional cost for extra work or you may choose our completely managed IT service where your set fee includes unlimited servicing (Both options are paid monthly by Direct Credit).
These days businesses are so diverse and have so many different needs that nobody can know what they need - you need expert advice to navigate through the many ICT options available in this modern market. We're always happy to offer independent advice.




Contact us today using the form to the left, or call our team for advice or to arrange an IT consultation and get your business on the right track today.