Superior Cyber Security - WatchGuard XTM


You need to keep your enterprise secure, Advanced Business Computing understand that you need to do this on your terms, so you're in control of your business. But control shouldn't mean limitations - sometimes you need expert advice and Advance Business Computing's IT consultants can help. Let us help you access the most cost-effective products available and future-proofing your business.

You can start with WatchGuard's powerful Next-Generation Firewall and then personalise your security over time by adding exactly the security functions you need, when you need them. No matter what products you choose, you will get true line-speed security inspection on all traffic and multi-gigabyte packet filtering throughput, for serious security that doesn't slow you down. This will allow you to run your business successfully and securely - use the form to the left to book a consultation.






Unified Threat Management - Best internet security in New Zealand
---
WatchGuard's Unified Threat Management (UTM) is the top performing, all-in-one network security platform in our industry. That means no compromises on security and no chances that threats will go undetected. This is an exceptional security appliance that aligns with your business priorities, fits your budget, and is easy to distribute across all your business sites. Contact us today to find out more about WatchGuard's products, and all of our other business software solutions.






WatchGuard Reputation Authority - In Depth web reputation protection
---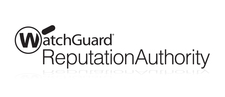 It is important that you are protected from threats that arise when you or your staff visit dangerous websites. Web reputation is the basis on which decisions are made about which websites have been compromised and should be blocked from letting you visit them or which emails to accept or reject. At reputationauthority.org you can see this process in real time. Reputation Authority is the most precise measure of internet reputation available from any vendor - bar none. Reputation authority does not classify a whole domain as one entity but classifies each sub domain or IP address, for accurate and up to date information.






Firewalls - Security Essentials for HTTPS secured traffic
---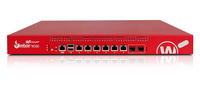 WatchGuard Firebox M400 and M500 firewalls are specifically engineered for mid-sized and distributed enterprises that are struggling to effectively and affordably secure networks in the face of explosive growth in bandwidth rates, encrypted traffic, video use, and connection speeds. Get the best internet security software in New Zealand - contact us today via the form to the left.

With an operating system built on the latest generation of processors from Intel, the M400 and M500 have all the power they need to run their security scanning engines in parallel, without causing a bottleneck in performance. This ensures network pros never have to compromise network security for performance.

Firewall throughput of up to 8 Gbps to keep traffic moving.

Best UTM throughput in its class – up to 1.7 Gbps – even with strong security enabled.
No need to compromise protection for strong performance or vice versa. Multi-layered,
interlocking security protects the network while throughput remains high.
Gigabit Ethernet ports support high-speed LAN backbone infrastructures & gigabit WAN connections, including 2 SFP ports for fiber or copper.




BEST-OF-BREED SECURITY

Application-layer content inspection recognizes & blocks threats that stateful packet firewalls cannot detect.
Powerful subscription-based security services boost protection in critical attack areas for multiple layers of defense. By partnering with leading technology providers, WatchGuard is able to integrate best-of-breed security components into one platform for stronger security at big cost savings.

APT Blocker is a cloud-based service that uses a combination of sandboxing and full system emulation to detect and block highly sophisticated Advanced Persistent Threats (APTs).
Application Control keeps unproductive, inappropriate, and dangerous applications off-limits.
Intrusion Prevention Service (IPS ) delivers in-line protection from malicious exploits, including buffer overflows, SQL injections, and cross-site scripting attacks.
WebBlocker controls access to sites that host objectionable material or pose network security risks.
Gateway AntiVirus (GAV) scans traffic on all major protocols to stop threats.
spamBlocker delivers continuous protection from unwanted and dangerous email.
Reputation Enabled Defense ensures faster, safer web surfing with cloud-based reputation look-up.
Data Loss Prevention automatically inspects data in motion for corporate policy violations.

Advanced networking features, such as dynamic routing and link aggregation, allow you to add security without needing to change existing network infrastructure.
Multiple VPN choices (IPSec, SSL, L2TP) for secure remote access include support for Android and Apple iOS devices.
EASY TO MANAGE
WatchGuard Dimension™, a public and private cloud-ready visibility solution, instantly turns raw data into security intelligence.
Interactive, real-time monitoring and reporting – at no additional charge – give an unprecedented view into network security activity so you can take immediate preventive or corrective actions.
RapidDeploy™ enables quick, secure configuration at remote locations without technical staff.
Intuitive management console centrally manages all security functions.
WAN and VPN failover provide redundancy for increased reliability.
Extend best-in-class UTM security to the WLAN by adding WatchGuard's Wireless Access Points.
Drag-and-drop Branch Office VPN setup – three clicks and your remote office is connected

Firewalls - From home to Carrier Grade
---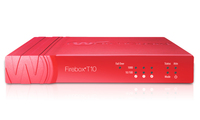 The WatchGuard Firebox® T10 brings enterprise-level network security to the small office/home office and small retail environments that matches the reality of today's distributed work style. The Firebox T10 delivers complete enterprise-level network security. Ideal for small office/home office and small retail environments, it can be used as a stand-alone solution or centrally managed from corporate headquarters. Flexible management tools and WatchGuard's RapidDeploy™ technology enable administrators to quickly set up a T10 device at remote locations so businesses can ensure that they protect everywhere they connect. It sustains up to 200 Mbps firewall throughput and 55 Mbps UTM throughput, and includes three 1-Gigabit Ethernet ports. WatchGuard Dimension™, which provides real-time visibility into network activity and security events, is included at no additional cost.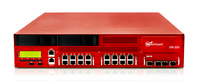 Enterprises need to know that their valuable information is safe and secure. The XTM 2050 succeeds in doing this, while also factoring in affordability and ease of use. This is a top of the line, multi-gigabit threat management appliance that secures corporate Internet traffic against hackers, malware, network attacks, intrusion attempts, data theft, and other cybercrime while securely connecting offices, remote and virtual employees, and providing real-time and historical visibility into security and user events. The hardware in the XTM 2050 is superior to its competitors with dual, hot swap power supplies, hot swap fans, and swappable NICS and hard drives